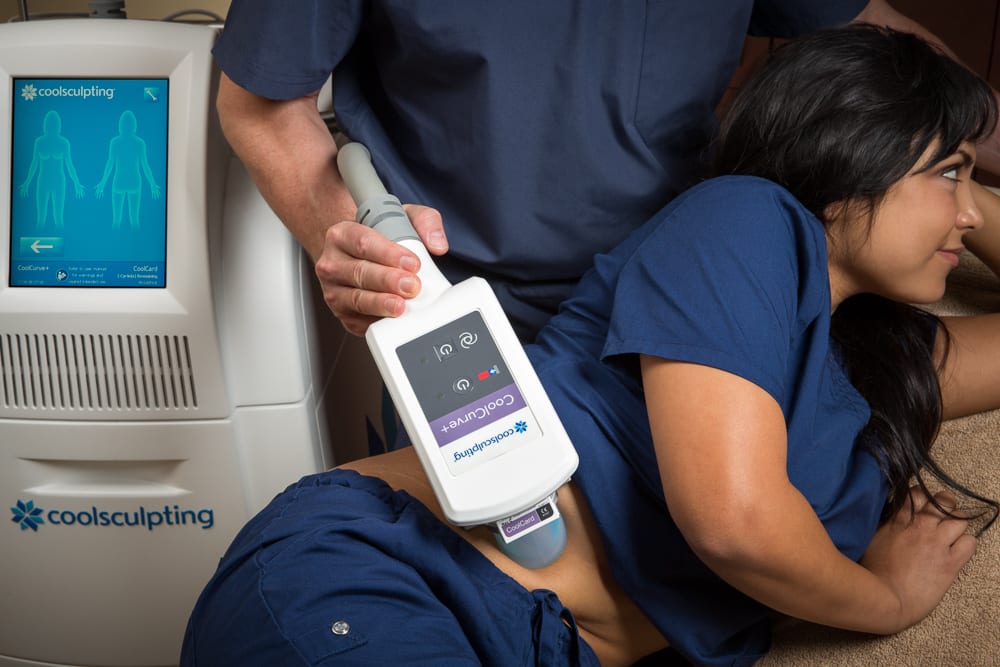 NON-SURGICAL FAT REDUCTION in Austin
CoolSculpting targets unwanted fat with a permanent, non-invasive approach.* Meridian Plastic Surgery recommends the procedure for people who want to sculpt and tone a small area of their body and who don't have time for a lengthy recovery.
Austin CoolSculpting patients generally choose the treatment to:
Eliminate pockets of fat that aren't responsive enough to diet and exercise.
Reduce love handles and the abdominal area.
Benefit from targeted fat loss without surgical downtime and without anesthesia.
Get a general overview about treatment, and then schedule an initial consultation with Meridian Plastic Surgery to find out whether CoolSculpting is right for you.
HOW COOLSCULPTING WORKS
CoolSculpting's unique technology freezes and eliminates unwanted fat cells without surgery or downtime. It provides lasting and effective results, and, as with all of the tools and medical techniques Dr. Tjelmeland employs, it is FDA approved.
In the CoolSculpting procedure:
You and Dr. Tjelmeland start by discussing the goals you want to achieve. Then, you select areas of your body that you'd like him to treat.
He positions the CoolSculpting device on your body and applies controlled cooling. The procedure is non-invasive; many CoolScuplting patients choose to nap, read a magazine, watch TV, or play on their phone during the application.
While your top layers of skin remain unchanged, the fat cells inside your body are eliminated. Over the next few weeks, your immune response will clear the fat cells out of your body.
The procedure is non-surgical, and you can return to work and regular activities immediately after treatment.
COMPARING COOLSCULPTING AND LIPOSUCTION
Dr. Tjelmeland can discuss with you whether CoolSculpting or liposuction is a better fit for your goals:
If you have small areas of fat that you want to eliminate, CoolSculpting may be the right choice. Typically, it removes about 22-25% of the fat cells in the area it targets. Further sessions may provide even better results (about 50% fat removal).
Liposuction can remove about 75% of the fat in the area. If you want more toned knees or thighs (or other larger areas of the body), liposuction may be a better fit.
For many Austin patients, CoolScuplting's promise of a non-invasive, no-downtime procedure provides all the benefits they require. If you'd like to learn more about your options, we invite you to contact our practice.
FAQs for CoolSculpting
Austin patients that first discover CoolSculpting often are amazed by the technology and have a lot of questions. Here are a few of the most common ones that we get.
Is CoolSculpting painful? – The answer is "it depends." Some of our patients report that CoolSculpting is not painful at all–in fact, many of them read, watch movies, and even nap while the procedure is performed. But some patients experience some discomfort during the very first few minutes of the CoolSculpting procedure.
What happens to the frozen fat cells? – The fat cells actually die after they are frozen using CoolSculpting technology. From there, your body will naturally get rid of them over the next 6 months. While diet and exercise can help to shrink fat cells, with CoolSculpting you're actually eliminating them completely.
Do I need to take vitamins or supplements to get CoolSculpting? – Absolutely not. The CoolSculpting procedure is not a weight loss program or fad diet. You don't need to take any kind of pills or supplements to get incredible results.
Are my results permanent with CoolSculpting? – Austin patients will have fewer fat cells in the targeted areas permanently. However, there are obviously still fat cells in your body that can gain weight.
What happens if I gain weight? – Patients that gain weight after CoolSculpting will also notice more fat around their body even if they've had CoolSculpting. The fat gain will be even around the body. For patients to maintain their results they should continue eating healthy and exercising regularly.
How safe is CoolSculpting? – Austin patients can get incredibly safe and fast fat reduction with CoolSculpting. It is FDA-approved to reduce fat in the thighs, tummy, and even the chin!
When can I see results from CoolSculpting? Most of our patients will begin to see some of their results after 3 weeks. However, many of our patients experience the most results after 2 or 3 months.
How long is the recovery period for CoolSculpting? – That's one of the great parts about CoolSculpting: there is no recovery period. Most of our patients can return to their normal work or daily life immediately after the procedure.
What are the most common side effects? – After the CoolSculpting procedure, some of our patients experience swelling, numbness, redness, bruising, and tingling. But these usually do not last for very long. There are some other rare side effects that patients will discuss with Dr. Tjelmeland.
How long does CoolSculpting take? – The actual CoolSculpting procedure will last about an hour. Most of our patients get 2 treatments but some may require more. Dr. Tjelmeland will usually schedule one treatment and then wait several weeks, usually 4 to 6 weeks, to schedule the next.
Am I a good candidate for CoolSculpting? – Austin patients should first understand that CoolSculpting is not a weight loss procedure. Instead, CoolSculpting is used to remove stubborn pockets of fat that won't go away with steady diet and exercise. During your consultation with Dr. Tjelmeland, he will discuss your medical history and perform an examination to make sure you are a good candidate for it.
Call Meridian Plastic Surgery's Austin office at 512-617-7500 for an initial consultation, or use our online form.
*Individual results may vary