Gallery
Meridian Plastic Surgery is a proud leading provider of state-of-the-art breast augmentation surgery for women in and around Austin, TX.
A Board-Certified Plastic Surgeon by the American Board of Plastic Surgery, Dr. Tjelmeland has made breast augmentation a primary focus of his practice, granting a renewed sense of confidence and healthy self-image to countless patients across the U.S. Whether you are combatting aging, the side effects of weight fluctuation, pregnancy, or simply genetics, breast augmentation may be your solution to a more balanced figure.
He and his talented team are committed to providing first-class treatment consisting of highly personalized care, absolute comfort, and exceptional results for all their Austin, Dallas, Houston, out-of-state, and international patients.
Breast Augmentation Explained
Also known as augmentation mammoplasty, breast augmentation is a surgical procedure that uses breast implants or, in certain cases, a fat-transfer to enlarge bust size, restore volume, or enhance the shape and symmetry of breasts.
Skilled plastic surgeons in follow current trends and procedures, leaning toward aesthetics for breasts that look and feel natural. Austin surgeon Dr. Tjelmeland uses the latest combination of procedural enhancements and state-of-the-art implant materials to meticulously sculpt the breasts and achieve the exact look you desire.
Dr. Tjelmeland's approach to breast augmentation starts with an in-depth patient consultation where he performs a thorough examination to discuss your body shape, preferences, and specific areas of the breast to be revised. Many factors, including the type of implants selected, their placement, and size are of great importance. You and the doctor will agree on the aesthetics and mechanics prior to your surgery to obtain the results you want.
Is There a Difference Between a Breast Augmentation and Breast Implant Surgery?
There may be some confusion when researching the difference between breast augmentation and breast implants. The simple answer: there is no difference. The terms breast augmentation and breast implant surgery are interchangeable, one and the same.
Both terms, breast augmentation and breast implant surgery, refer to the surgical procedure used to open an area in the breast to allow insertion of an implant or transfer of fat. Breast augmentation also involves various safe and minimally invasive manipulations to the breast to achieve a more natural-looking shape, size, and position.
What Are the Key Benefits of Getting a Breast Augmentation?
Dr. Tjelmeland performs breast augmentations for multiple reasons, such as: increasing breast size, as part of a breast revision procedure, or to:
Why Do Most Women Choose to Have Breast Augmentation?
Patients seek breast augmentation surgery with different motives. Some women have always wanted larger breasts, a more balanced figure, and the ability to bare their bodies in different styles of clothing or settings with confidence.
Others simply want to rejuvenate their figure after pregnancy or are looking for an effective way to combat signs of aging. Various conditions and circumstances can reduce the volume of breasts, and breast augmentation can restore youthfulness to their appearance.
According to a study by the American Society for Aesthetic Plastic Surgery, "Breasts: From A to D – An Evolution of Breast Size, Enhancement and Attitude," women chose to have a breast augmentation for the following reasons:
91% – to look better naked
84% – to look better in clothes
84% – they want larger breasts
81% – to feel better about herself
79% – to feel more confident
74% – to feel less self-conscious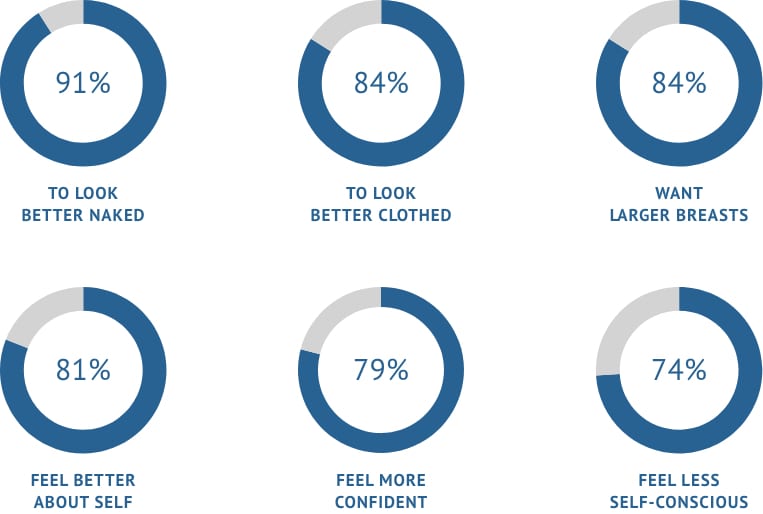 Increase the Size of Your Breasts!
Get A Mommy Makeover
Address your body's shape from head to toe with one surgery.
Dr. Tjelmeland's exquisite results and artistic approach secures Meridian Plastic Surgery's status as one of the leading providers of breast augmentation in Austin. He has completed hundreds of life-changing procedures, helping countless women feel more secure with the size, shape, and volume of their breasts.
Am I an Ideal Candidate for Breast Augmentation in Austin?
The ideal candidates for breast augmentation are women who have a comprehensive understanding of the procedure, including potential risks, benefits, and costs. A potential candidate must also maintain realistic expectations for the procedure. As this is a personal decision, women should only consider breast augmentation by their own choice and not at another's urges.
A Breast Augmentation Is Perfect For:
As well as:
Women with mildly sagging breasts, which will be lifted with breast augmentation techniques.
Women with breast asymmetry issues, which can be corrected during surgery.
Women dissatisfied with their breast appearance or size.
Women seeking a reconstructive procedure after breast cancer.
Women looking to restore breasts to their pre-pregnancy state.
Women who believe their breasts are disproportionate to their body.
It Is Not So Perfect For:
How Old Do I Have to Be to Get a Breast Augmentation?
The FDA requires you to be at least 18 years old for saline implants. For silicone implants, the "advised" minimum age is 22 years old. Dr. Tjelmeland can speak in detail about the benefits of each breast implant in a highly personalized consultation.
Before & After
Breast augmentation is an intricate type of plastic surgery requiring a high level of skill, extensive training, and artistic capability. As part of the consultation process, Dr. Tjelmeland will give you the opportunity to examine photographs, including those of his patients, which provide a realistic example of what to expect if he performs your breast augmentation.
Meridian Plastic Surgery is committed to providing highly personalized care to guarantee you receive the beautiful results you deserve.
Breast Augmentation
---
Are your breasts too small or asymmetrical? Breast augmentation at Meridian Plastic Surgery can help you achieve fuller, natural-looking breasts. Whether your breasts have lost volume after breastfeeding or significant weight loss, you deserve to feel confident and beautiful. Schedule your consultation for breast surgery today!
Breast Augmentation Procedure Process Explained
The Consultation
Dr. Tjelmeland understands the reasons for undergoing treatment are very personal. There is no "one size fits all" method when considering breast augmentation surgery.
A highly personalized consultation with Dr. Tjelmeland is the first step in ensuring that we customize your goals and follow the ideal course of action for you. In this initial consultation, he will be happy to go over your options for breast augmentation, including type of implants, your incision and implant placement options, and size. This personalized consultation ensures we accurately achieve a suitable direction for your aesthetic ideal before proceeding with breast augmentation.
An initial consultation will take about one hour or more. In your consultation, Dr. Tjelmeland will perform a thorough examination, tell you his exact recommendations and reasoning behind them, as well as:
His approach facilitates a comfortable environment with open two-way communication. Conversation during this consultation will aim to explore and inform you about all procedures so that we can accomplish your desired cosmetic result and deliver an enormous boost of confidence that comes with your new enhanced breasts.
What Should I Do in Preparation for a Breast Augmentation?
Planning a delicate surgery such as breast augmentation can cause some anxiety. To ease the tension, we focus on thoroughly educating our patients on how to prepare for breast augmentation.
Prior to surgery, you may be asked to obtain a baseline mammogram, begin taking certain medications or adjust current medications, as well as:
How Long Does a Breast Augmentation Procedure Take?
While every breast augmentation surgery is unique, the process generally takes about 1 to 2 hours. The surgeon will then dress and close the skin with internal dissolvable sutures and apply steri strips on the outside which will be removed at your follow up.
What Is a Breast Augmentation Like During Surgery? Is It painful?
On an annual basis, Dr. Tjelmeland completes hundreds of successful breast augmentation surgeries. The anesthesia administered by our Board-Certified Anesthesiologist is a quick and simple process. Meridian Plastic Surgery promises to provide ultimate comfort throughout every step of the breast augmentation process.
What Should I Expect in Terms of Recovery After a Breast Augmentation?
Breast augmentation recovery time varies individually. In most cases, a patient will be up and walking around a few hours post-surgery. With any type of invasive plastic surgery, expect swelling and soreness of the breasts for a few weeks and avoid exercise and strenuous activities for 4-6 weeks or until your surgeon gives approval.
Dr.Tjelmeland will give you detailed instructions on how to care for your breasts in the post-operative period. He will discuss in detail:
Supportive Recovery Bandages and Bras
Incision Cleaning and Bandage Changes if needed
Pain and Antibiotic Medication Management
Gentle Walking and Restorative Exercise
Learning How to Comfortably Sleep on your Back
How Long Will the Results Last? Will I Need to Replace My Breast Implants in the Future?
In most cases, implants will last for 10 to 20 years before they need to be replaced. After your implants are surgically placed, it is good practice to have your implants inspected by Dr. Tjelmeland once a year to ensure no ruptures or damage has occurred.
Breast Augmentation
---
Pregnancy and weight loss can take a toll on your breasts, making them look saggy or deflated. But, a breast augmentation can quickly turn this around and leave you with breasts that look lifted, fuller, and natural. Learn more about Dr. Tjelmeland's individual approach to breast surgery and how he can help you.
Other Things to Consider Before Getting a Breast Augmentation
Implant Types for Breast Augmentation. Which Is the Best for Me?
Cohesive Silicone Breast Implants
Cohesive silicone breast implants have a viscous composition comparable to human fat. These implants mimic the same bounce of natural breast tissue and are suited for patients desiring a more natural breast-like look and feel. They are pre-filled with a cohesive silicone gel prior to surgery.
Saline Breast Implants
Saline breast implants are filled with intravenous saline at the time of surgery and can be inserted via a small insertion.). Saline implants maintain a firmer feel and are ideal for women with a good amount of breast tissue. In the rare case that an implant ruptures, the saline solution is easily absorbed into the body.
Gummy Bear Breast Implants
Also known as "Highly cohesive gel silicone implants," are filled with a silicone (high cohesive gel) thicker than traditional silicone breast implants. The added viscosity allows the implants to maintain their shape for a longer period and yield natural-looking results especially in patients prone to visible wrinkling. These are the and most expensive implants for breast augmentation.
Fat Transfer
Fat transfer breast augmentation is an alternative to implants. This procedure uses liposuction to harvest your own fat cells from a donor site (usually the abdomen and flanks). The fat is then processed to remove non-fat fluids and methodically injected into your breasts. This process naturally increases the size of your breasts and contours "problem areas." This procedure is recommended for a select few who are ideal candidates.
Are There any Risks Involved in Getting Breast Implants?
With all cosmetic surgery, there is always a possibility for complications. To ensure beautiful and long-lasting results, it is important to look for a plastic surgeon with a proven track record of high caliber work. Dr. Tjelmeland has extensive experience with breast augmentation procedures and makes a special effort to ensure the most comfortable and beneficial surgical experience possible for his patients. During your consultation with Dr. Tjelmeland for breast augmentation, he will determine if you are at an increased risk for any particular complication associated with your procedure.
Should I Really Get Breast Implants? Is It Really Worth it?
This question is highly personal and requires thoughtful deliberation and consultation with a board-certified plastic surgeon before committing. One thing is certain; most women who undergo breast enhancement say they love their results and they wish they had done it sooner!
Studies have shown that breast implants can help to boost self-esteem, body image, and sexual satisfaction. Since 1997, the average breast size has increased from a 34B to a 36C, and 92% of women who had the procedure would recommend it to their friends.
The top benefits of breast augmentation are:
As well as:
Easier to Shop for Clothes
Restores a Youthful Appearance
Affordable Pricing & Medical Financing
Straightforward Process with Fast Recovery Times
Common Procedure with Low Incidents of Complication
Getting a Breast Augmentation vs Getting a Breast Lift?
To be clear, a breast augmentation focuses on the size and shape of the breast, mainly to enlarge bust size, restore volume, or enhance the shape and symmetry of breasts.
In comparison, a breast lift or "mastopexy" procedure focuses primarily on breast position and will not increase the size of your bust. A breast lift aims to remove excess skin and tighten the tissue surrounding the breasts and is suited for women who feel their breasts are flat or elongated.
It is not uncommon to combine a breast augmentation with a breast lift to save both money and time spent in recovery. Combining these two procedures is called an "augmentation/pexy." The objective of combining a breast augmentation with a mastopexy (breast lift) is to kill two birds with one stone, giving volume and increased bust size, while simultaneously repositioning sagging breasts and nipple areas. Dr. Tjelmeland will gladly speak in detail about the process and procedure in a tailored consultation.
Are There any Other Alternatives to Achieve the Results I am Looking for?
Some non-surgical alternatives for breast enhancement include:
All-Natural Breast-Enhancing Supplements
Breast-Firming Creams
External Breast Prostheses and "Falsies"
Vacuum Bras
Many of these methods are unproven and may help to enhance the breasts on a small and temporary scale, they are not reliable options proven to give long-lasting results. Breast implants are safe, durable, and long-lasting devices.
A successful breast augmentation surgery by Dr. Tjelmeland is a procedure that will give lasting and permanent results for years to come. It is still good practice to plan regular post-op consultations, take care of your skin, avoid weight fluctuation, and wear proper support to help extend the life of your breast augmentation procedure.
Get a Breast Augmentation at Meridian Plastic Surgery Today!
With over two decades of experience, breast augmentation is one of the most rewarding procedures Dr. Tjelmeland performs at Meridian Plastic Surgery in Austin. Our team continues to set the highest standards of excellence in patient care and consistently beautiful results.
Dr. Tjelmeland is committed to achieving the beautiful breast enhancement results you desire. You are one consultation away from achieving full, supple, and symmetrical breasts that fit your aesthetic ideal and unique body contour.
To receive individualized recommendations and learn more about how you can benefit from breast augmentation, contact Meridian Plastic Surgery today at (512) 617-7500 to schedule a highly personalized consultation in Austin today.
We proudly serve patients from Austin and surrounding areas, Dallas, Houston, San Antonio, out-of-state, and international patients.