Gallery
What Is CoolSculpting®?
If you've always wanted a slimmer and sleeker physique, but you just can't seem to get rid of stubborn pockets of fat, it can feel defeating. After all, you put so much work into how you look and feel. Why don't you see the results you so desperately want? It just doesn't seem fair, does it?
Well, Dr. Tjelmeland of Meridian Plastic Surgery Center may just have found the answer to your dreams, and it's called CoolSculpting®. This non-invasive procedure freezes and kills fat cells, so they are gone forever! That's right, CoolSculpting® eliminates fat cells without any surgery whatsoever.
It seems too good to be true. How can you possibly eliminate fat cells forever without additional dieting, exercising or surgery? You may think this is an unbelievable option, but it is a reality. CoolSculpting® is an amazing procedure that can help you say "goodbye" to fat cells forever during a procedure that can be conveniently performed during your lunch break with no needles, no knives, and no downtime.
What Are The Benefits of CoolSculpting®?
CoolSculpting® targets unwanted fat with a permanent, non-invasive approach.* Meridian Plastic Surgery Center recommends the procedure for people who want to sculpt and tone a small area of their body and who don't have time for a lengthy recovery. CoolSculpting® is also a great way for Austin men and women to get their feet wet by trying out a cosmetic procedure.
Coolsculpting® contours the body and rids patients of unwanted fat without diving head first into plastic surgery for those patients who have never had any surgical procedures performed before and may be nervous to go under the knife. CoolSculpting® is also a  way to sculpt the body if, due to other medical reasons such as an allergy to anesthesia, you aren't a candidate for other fat-removing cosmetic surgeries such as liposuction.
Dr. Tjelmeland's CoolSculpting® patients in Austin usually choose the procedure to:
Eliminate pockets of fat that are not responsive enough to diet and exercise.
Reduce love handles and excess fat in the abdominal area.
Target areas of fat without surgical downtime and without
Get a general overview of treatment, and then schedule an initial consultation with Meridian Plastic Surgery to find out whether CoolSculpting® is right for you.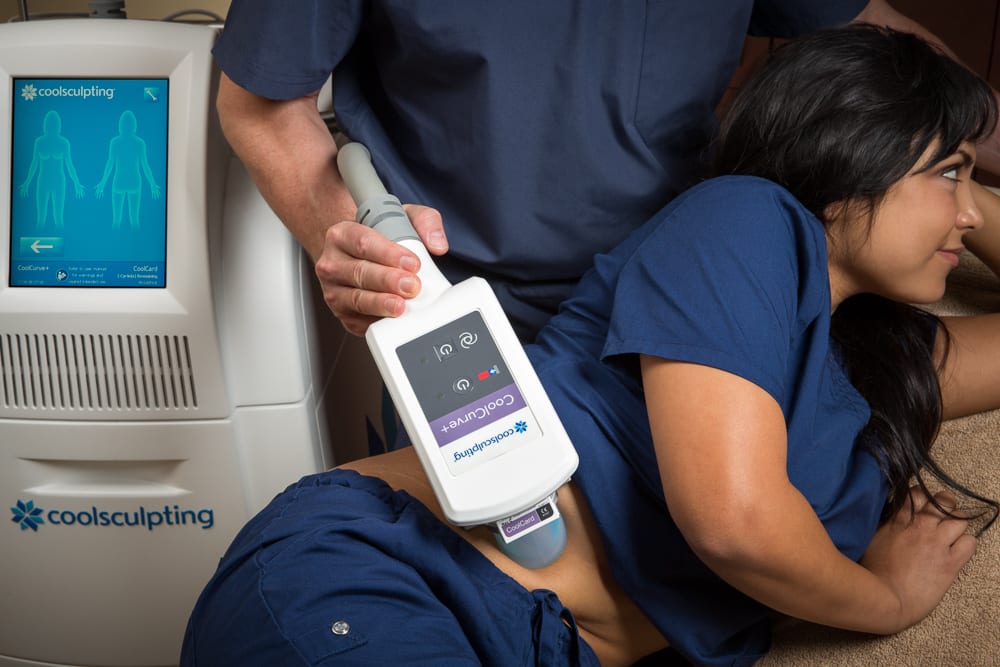 How does CoolSculpting® Work?
CoolSculpting®'s unique technology freezes and eliminates unwanted fat cells without surgery or downtime. Amazing, isn't it?! It provides lasting and effective results, and as with all of the tools and medical techniques Dr. Tjelmeland employs, it is FDA approved.
During your CoolSculpting® session, you will:
Arrive having already been assessed at your consultation and selected areas of your body that you'd like treated with the CoolSculpting® applicator.
The CoolSculpting device will be positioned on your body and apply controlled cooling. The procedure is non-invasive. While some Austin patients describe the procedure initially as very cold, many CoolSculpting® patients choose to nap, read a magazine, watch TV, or play on their phone during the application.
While your top layers of skin remain protected, the fat cells inside your body are eliminated. Over the next few weeks, your body will naturally clear away the treated fat cells.
The procedure is non-surgical, and you can return to work and regular activities immediately after treatment. This means you can come in for a CoolSculpting® procedure on your lunch break, and head straight back to work the very same day without anyone being the wiser!
Common CoolSculpting® Questions
Comparing Coolsculpting® And Liposuction
Dr. Tjelmeland can discuss with you whether CoolSculpting or liposuction is a better fit for your goals:
If you have small areas of fat that you want to eliminate, CoolSculpting may be the right choice. Typically, it removes about 22-25% of the fat cells in the area it targets. Further sessions may provide even better results (about 50% fat removal).
Liposuction can remove about 75% of the fat in the area. If you want more toned knees or thighs (or other larger areas of the body), liposuction may be a better fit.
If you are a smoker or otherwise aren't a candidate for liposuction due to a medical condition, for example, CoolSculpting may be able to deliver the results you want.
For many Austin patients, CoolSculpting's promise of a non-invasive, zero-downtime procedure provides all the benefits they require. If you'd like to learn more about your options, we invite you to contact our practice.
Call Today To Get Started On Your Journey
If, after reading this information, you have any additional questions about the CoolSculpting procedure, we'd love to hear from you.
CoolSculpting is such an exciting new procedure; we just can't help but want to talk about it! Call Meridian Plastic Surgery Center's Austin office at (512) 617-7500 for an initial consultation, or use our online form to inquire electronically.
*Individual results may vary