May 1, 2017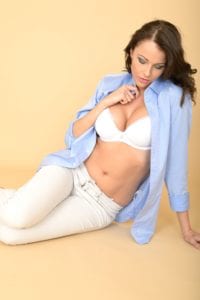 While almost everyone is at least familiar with the idea of liposuction, few people know about a non-invasive, fast, easy, and powerful procedure called CoolSculpting. Austin patients that have worked hard to lose weight with diet and exercise often are frustrated by small pockets of stubborn fat that just won't disappear. For these patients, CoolSculpting can help them remove that extra bit of fat to get an even trimmer and sleeker appearance. In this blog post, we want to talk about what exactly CoolSculpting is and what happens when patients gain weight after undergoing the procedure.
Dr. Tjelmeland is one of the most well-respected and in-demand plastic surgeons in Austin and the entire state of Texas. He's even been recognized for 5 years as one of the "Best Cosmetic Surgeons" by Texas Monthly. He's a board-certified and award-winning surgeon originally from Iowa that started and built his medical career right here in Texas. If you want to see what Texans think of Dr. Tjelmeland, then make sure you check out our page of Testimonials written by our wonderful patients. Give us a call today at (512) 617-7500 to get started and learn more about our modern and cutting-edge practice.
When you call us, you'll get to talk with one of our welcoming and knowledgeable staff. We always love getting phone calls from our new Austin patients so don't hesitate to contact us. During your call, you can schedule your first preliminary consultation with Dr. Tjelmeland. This first meeting is very exciting because you'll get to talk to the doctor about what your goals are for the procedure and discuss your medical history. Dr. Tjelmeland will also perform an examination and make recommendations on how to move forward. From there, Dr. Tjelmeland will begin developing your tailored treatment plan. Contact us today to get started.
What is CoolSculpting?
Austin is an energetic and fast-paced city and people here always want to look their best. But sometimes, dieting and exercise can't seem to help with certain stubborn areas of fat. Belly fat, as well as fat on the thighs and hips can all have a big impact on our patients' self-esteem and confidence.
CoolSculpting is a non-invasive procedure that eliminates fat cells and shapes our patients' figures to their desired shape. Here's how it works.
Targeted cooling – CoolSculpting uses intense cold temperatures to specifically target fat cells. During the procedure, Dr. Tjelmeland uses the CoolSculpting technology to freeze fat cells and kill them while skin cells and other tissue cells are totally unharmed.
Fat removal – Once the fat cells die, they are removed naturally by the body leaving the targeted areas smoother and tighter.
Fast – The procedure usually takes about an hour. For patients that target multiple areas, the procedure takes
Painless – Our patients usually read, watch movies, or even nap during the procedure
How Permanent is CoolSculpting?
Austin patients are usually quick to ask about weight gain after the procedure. This is an excellent question. CoolSculpting is not intended as a weight loss tool. Patients should achieve their desired weight before starting their procedure for CoolSculpting. Austin patients that cease their healthy lifestyle will gain weight just like they would before CoolSculpting.
So while CoolSculpting can help you rapidly achieve the body shape you want, patients still need to maintain their healthy lifestyle to keep the results.
Call Dr. Tjelmeland today at (512) 617-7500 to talk with one of our dedicated and welcoming staff.