Gallery
A breast augmentation can give you beautiful, fuller, and more youthful-looking breasts. However, some women experience changes after surgery that require a revision procedure.
Meridian Plastic Surgery performs breast revision procedures for patients in Austin, throughout Texas, and around the country. Breast surgery is one of our top surgeries, with a focus on providing women natural-looking and attractive outcomes.
Certified by the American Board of Plastic Surgery, Dr. Tjelmeland brings more than 20 years of experience to the care of his patients. He has performed hundreds of life-changing procedures, helping patients get the size, shape, and volume they want in their appearance. Consider treatment if you have problems with aesthetics or comfort or did not get the results you wanted from your original plastic surgeon.
What Is a Breast Revision?
A breast revision surgery is a corrective procedure for a past breast augmentation, mastopexy, breast reduction, or any combination of these procedures. The surgery improves on the outcome or addresses problems that developed after the original augmentation. Your breast revision might focus on:
As well as:
Replacing breast implants that have failed or that no longer provide the fullness and shape you need
Correcting visible or palpable rippling or wrinkling of your breast implants
Treating capsular contracture, or scar tissue that has developed around the breast implants
What Are the Differences Between Breast Revision and Breast Augmentation Surgery?
Both a breast revision and breast augmentation are procedures that change the appearance of your breasts, and both focus on giving you a beautiful outcome in line with your aesthetic ideal. However, the revision surgery is meant to correct issues that can sometimes emerge after the original augmentation or breast surgery.
A revision tends to be more complex because your surgeon needs to plan around changes that the original procedure made to the structure of your breasts. For this reason, it is essential for you to choose the right surgeon. Austin patients rely on Dr. Tjelmeland for their breast revision because of his extensive experience, skillful approach, and commitment to outcomes that meet their personal goals.
What Are the Benefits of a Breast Revision?
Surgery can resolve several problems that may develop after you have had an augmentation.
Get a result more in line with your aesthetic ideal. Your original surgery may not have resulted in the outcome you wanted. You may be dissatisfied with the size, position, or shape of your breasts. Dr. Tjelmeland will communicate with you about your goals, use his surgical skill and years of experience to achieve them, and take the time to give you beautiful and natural-looking results.
Restore your breasts to a higher, more youthful position. Genetics, aging, and skin quality can all affect the way your breasts look after an augmentation and/or lift. Sagging can cause your implants to shift out of position or to become more visible. With a breast revision, Dr. Tjelmeland can lift your breasts to a higher position and replace your implants with the latest generation of implants using the latest technology better suited to your frame.
Resolve problems that develop with the implants. In some cases, excess scar tissue can form around an implant, changing its shape or position inside the breast. This is typically referred to as capsular contracture. (Learn more about capsular contracture below.) Research suggests that the right medical technique, safety protocols, and surgical facilities can reduce this risk. In addition, earlier-generation breast implants have higher occurrences of leaking or deflating over time. A breast revision can replace older implants for newer implants.
My Breasts Do Not Look Alike After an Augmentation. Can Breast Revision Correct Breast Asymmetry?
Yes, breast revision can fix problems with breast asymmetry. Dr. Tjelmeland can use several surgical techniques, including:
Changing your breast implants. Some women will benefit from two different implant sizes because their breasts are different sizes or shapes.
Altering the position of the implants, either within the breast tissue or beneath the muscle.
Removing scar tissue that may be pushing the implant out of place.
Months After My Augmentation, My Breasts No Longer Look or Feel Natural. Why Did This Happen?
In some cases, an implant may not settle into its intended position. Over the months or even the years that follow an augmentation, the tissue around the implant may harden, causing the breast to have a misshapen appearance or sit higher on the chest than normal. The likely reason for this is the development of abnormal scar tissue around the breast implant known as capsular contracture, a complication that some women develop after their breast augmentation.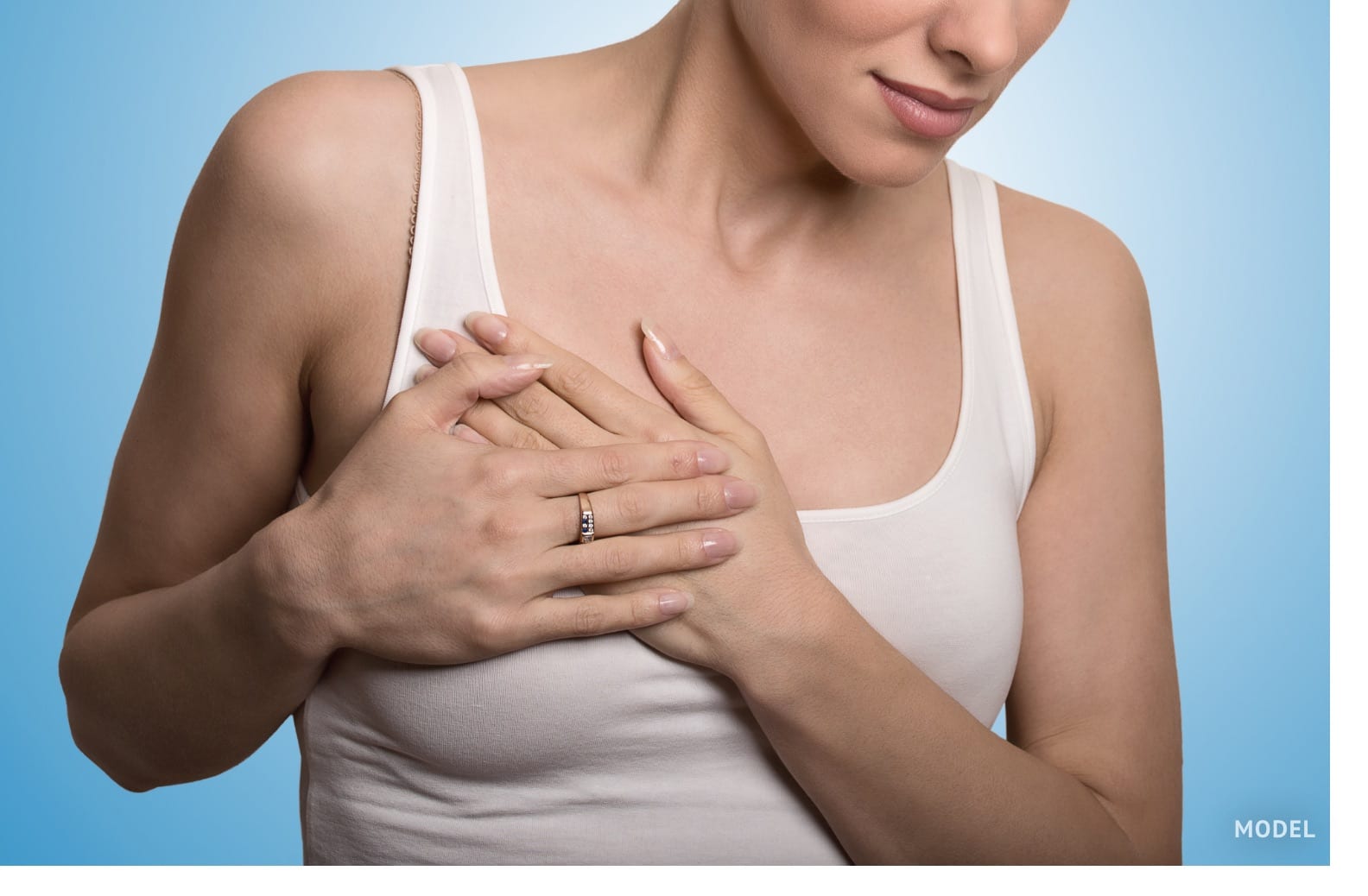 What Is Capsular Contracture? Can Breast Revision Resolve This Condition?
Capsular contracture is a complication that some patients experience following their breast augmentation. The original surgery is supposed to create a healthy envelope of tissue to hold the implant. However, in some cases, excess scar tissue develops, affecting the way the breast looks and feels.
There are several grades of capsular contracture. In the most severe, the breasts may look abnormal or be painful and hard to the touch. If you think you are experiencing this condition to any degree, you should schedule a surgical consultation.
Dr. Tjelmeland can remedy problems related to capsular contracture with breast revision procedures. In the surgery, he removes the scar tissue and implant. Depending on the patient's preferences, Dr. Tjelmeland can repair the implant pocket, place a new implant in its proper position, and give the patient the results she wanted from her original procedure.
Why Do Most Women Choose to Have Breast Revision?
Women in the Austin area come to Meridian Plastic Surgery with different goals in mind, and the decision to have surgery is personal for every patient. Commonly, patients choose to have breast augmentation to get the figure they have always wanted. Other women have an augmentation to bring back the fullness they enjoyed before pregnancy and having kids.
It can be very disheartening when surgical results do not reflect their goals or when complications affect the appearance of their breasts. Rather than live with discomfort and dissatisfaction, our patients opt for breast revision so that they can take back their physical identity and restore their confidence in the way they look.
Am I a Good Candidate for Breast Revision in Austin?
Patients considering breast revision should have a complete understanding of the procedure and realistic expectations for what surgery can help them accomplish. During your initial consultation at Meridian Plastic Surgery, Dr. Tjelmeland will spend time with you discussing your concerns, what you would like to change, and your options for treatment.
A breast revision surgery is well-suited for patients who are dissatisfied with the results of their previous breast augmentation or other prior breast surgery and want to get the aesthetic improvement they originally envisioned, as well as patients who:
The Surgery May Not Be Right for:
We encourage you to schedule an initial consultation with our practice so that we can discuss your eligibility for surgery and your options for treatment.
Breast Revision Before & After
Meridian Plastic Surgery has helped hundreds of women resolve the problems they experienced with a previous surgery and achieve the look and feel they always wanted. Explore our breast revision photo gallery for past patient successes.
Anesthesia and Medications for Breast Revision Surgery
Dr. Tjelmeland typically performs breast revision procedures under general anesthesia alongside a board-certified anesthesiologist. Under our care, you will be able to sleep comfortably throughout the experience.
Before your surgery, our practice will prescribe you the medications you need for a successful procedure and healthy recovery. This may include:
Note that this list is not exhaustive and will vary depending on your consultation with Dr. Tjelmeland.
Breast Revision Procedure Explained
Dr. Tjelmeland understands how important it is for patients to get the outcome they want from their treatment. As a board-certified surgeon with more than two decades of experience, he will take the time to learn your goals, perform your procedure with skill and artistry, and provide you with the care you deserve.
The Consultation
Start with a visit to our Austin practice, where you will have the chance to meet our staff members and get to know Dr. Tjelmeland. During your consultation, we will discuss your procedure and your expectations for breast revision surgery.
Dr. Tjelmeland will conduct an examination and talk with you about the problems you have been having. He will identify potential causes for these issues and determine how you want to look after the breast revision. We never follow a "one size fits all" approach. Depending on your needs, your surgery might include:
You and Dr. Tjelmeland will decide together on your treatment plan, and he and our team will answer any questions you have. We will also provide you with a final cost to help you make your decision about surgery.
Should My Breast Revision Include a Breast Lift?
A breast revision often has the same purpose as the original augmentation: to increase the size and enhance your breasts' appearance. By comparison, the purpose of a breast lift ("mastopexy") is to reshape and reposition the breasts, raising them higher on your chest.
Many of our Austin patients benefit from combining breast revision surgery with a breast lift. As a result of aging or pregnancy, your breasts may have changed shape or begun to droop in the years since your original augmentation. Restoring fullness and returning your breasts to a youthful position may give you more improvement than either procedure alone.
What Should I Do in Preparation for a Breast Revision?
Meridian Plastic Surgery's top priorities are your comfort, safety, and successful outcome. To support these goals, we may request that you do the following before your procedure:
As well as:
Get a baseline mammogram.
Arrange to have someone bring you to your surgical appointment and take you home afterward.
How Long Does a Breast Revision Procedure Take?
A typical breast revision can take between 1-4 hours, depending on the complexity. Your surgery may take more or less time depending on whether you have implants removed but not replaced, the complexity of your surgery, and whether you are combining the revision with a breast lift. You can expect to go home on the same day as your procedure.
What Is It Like to Have Breast Revision Surgery? Is It Painful?
The general anesthesia you receive will help you sleep comfortably through the entire experience. You should not feel any pain during your surgery. Dr. Tjelmeland and our staff members will do everything possible to make you feel relaxed and support you at every stage in your procedure.
What Should I Expect in Terms of Recovery After a Breast Revision?
Before your surgery, you will have a preoperative appointment where our practice will provide you with detailed post-operative instructions so that you can have the most comfortable recovery possible.
Dr. Tjelmeland typically uses internal dissolvable sutures to dress and close surgical sites and applies Steri-Strips™ on the outside. You will have these removed at your follow-up visit.
While you should be up and walking around a few hours after your breast revision, plan to take several days away from work and normal activities. You will also need to avoid exercise and strenuous activities for 4-6 weeks or until Dr. Tjelmeland clears you. Expect some swelling and soreness during this time.
How Long Will the Results Last?
As with a breast augmentation procedure, your implants should last 10-15 years before you need to have them replaced. It is also a good practice to have Dr. Tjelmeland inspect your implants once a year to ensure that they do not have a rupture or damage.
Should I Have a Breast Revision Surgery? Is It Really Worth it?
Meridian Plastic Surgery does everything to help our Austin patients make an informed and confident decision about treatment. We believe that your choice to have a procedure should be your own.
That said, the women who have breast revision with our practice tell us that they are very happy with their results. For many of our patients, their outcome is a fulfillment of the goals they had going into their augmentation surgery. A follow-up procedure allows them to have the body they originally wanted.
When women experience complications, such as capsular contracture, breast revision can be an important change in their quality of life. Surgery can resolve the pain and embarrassment they may have been dealing with for months, giving them back their desired appearance.
If you are considering treatment, we encourage you to talk with Dr. Tjelmeland, to review our past patient successes, and to learn about your options with our practice.
Resources for Breast Revision Patients
Explore Breast Revision with Meridian Plastic Surgery
Whether you are unhappy with the results from your original augmentation or your breasts have changed in appearance since your surgery, Dr. Tjelmeland will use his extensive experience, skill, and eye for aesthetics to help you get the results you want.
Meridian Plastic Surgery is committed to providing you with highly personalized and supportive treatment. Learn more about breast revision by contacting our Austin office at (512) 617-7500 or connecting online.