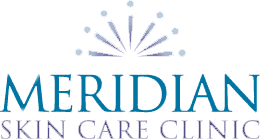 The Meridian Skin Care Clinic is now open and has a variety of services available to individually tailor each treatment to your specific skin and concerns. Most treatments can be performed alone or in combination with other laser services. They can also accompany treatments with injectable fillers or Botox ®, as well as cosmetic surgery to take better advantage of your down time.
Sciton ProFractional Laser Therapy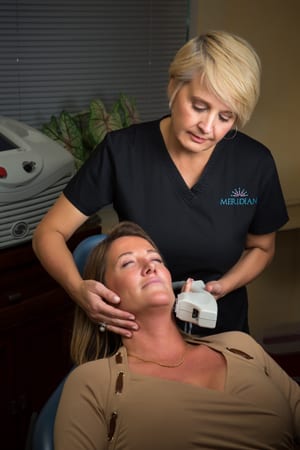 With very little down time you can dramatically improve your skin's texture and firmness, while decreasing acne scarring, sun spots and freckles with the Sciton ProFractional Laser. The laser works by creating thousands of microscopic holes in the skin, which are surrounded by healthy untreated skin. As the holes heal, your skin will create new collagen, plumping and tightening the treated areas to create smoother, firmer, clearer skin. The amount of down time will depend on the intensity of your particular treatment and usually ranges from 2-4 days. For optimal results, a series of three treatments is usually suggested about 4 weeks apart, although improvement should be noted after just one treatment.
Phototherapy- BroadBand Light (BBL)
Reduce years of sun damage with Phototherapy, also known as BroadBand Light therapy. The BBL is a very versatile laser, with the ability to treat age spots, sun damage, unwanted hair and redness associated with rosacea and vascular lesions. Many of these conditions can be treated during one session. The BBL works by delivering a powerful light energy that heats only the upper layers of skin. The heat generated in these target areas stimulates the growth of new collagen. Although any area of the body may be treated with the BBL, the most common areas are the face, chest, hands and forearms. A series of four sessions is usually recommended about 3-4 weeks apart for the best results.
MicroLaser Peel (MLP)
Improve your skin's texture and tone with a MicroLaser Peel. Just as effective as traditional laser resurfacing techniques but with less down time, a MicroLaser Peel can provide dramatic results that leave your skin looking healthier and more vibrant. The laser works by ablating the outer most layers of the skin to help provide a smooth texture and more even pigmentation. The healing process should be complete within 3-4 days following treatment. MLP treatments are often combined with other laser procedures for more dramatic results. Typically, 3-4 treatments are recommended about six weeks apart for optimal results.
Laser Hair Removal
Reduce unwanted hair quickly and easily with laser hair removal. With two different lasers available for use, we are able to safely and successfully treat all skin types. The laser works by targeting the melanin in the hair follicle. A cool plate is pressed against the skin to ensure the surrounding tissue is left undamaged and make your treatments more comfortable. Treatments can be performed any time of the year, although sun exposure to the treated area is discouraged two weeks before and after treatment. Any area of the body may be treated, with the most common areas including the face, underarms, bikini and legs. For optimal results, 4-6 sessions are recommended about six weeks apart.
Sclerotherapy (Injections for the Removal of Spider Veins)
Spider veins on the legs can be a source of embarrassment for many women. Whether resulting from pregnancy or just heredity, these stubborn veins can be treated with injections composed of a concentrated salty solution that will yield long-term results. Known as sclerotherapy, this high salt mixture includes a local anesthetic and is administered using a very small needle to help ease discomfort. Depending on the extent of a patient's spider veins, a few sessions placed 4-6 weeks apart are often recommended to achieve the best results.
DiamondTome Microdermabrasion
Microdermabrasion is an easy way to help rejuvenate your skin for an all over healthy glow with no down time. A series of Microdermabrasion treatments can help minimize fine lines and wrinkles, improve the appearance of sun damage and acne scars, remove black heads/white heads and clogged pores, and is a great complement to any skin care regimen. Microdermabrasion treatments are often scheduled 1-2 weeks following other more aggressive laser treatments to help speed up the exfoliation process. During the treatment, a diamond-tip wand is used to gently exfoliate and vacuum the skin. Makeup can be applied immediately after the procedure to cover any redness that may be present. A series of five treatments about two weeks apart is usually recommended for optimal results.
Chemical Peels
Meridian Skin Care Clinic offers a variety of chemical peels, many of which can be customized and adjusted for your particular skin and issues. These peels will help to freshen your skin, and can reduce the signs of sun damage, aging and fine lines. Among them are the Theraderm 70% Lactic Acid Peel, Theraderm Jessner peel, TCA peels and the Skin Medica Rejuvenating Peel.
Microneedling with SkinPen®
Rejuvenate your skin and get rid of signs of aging, with SkinPen Microneedling. SkinPen Microneedling treatments help you address concerns such as wrinkles and other skin imperfections. The SkinPen is a new microneedling device used to help Austin patients improve the appearance of their skin by reducing fine lines and wrinkles and significantly improving the appearance of acne scars. This device can be used on all skin types because it uses adjustable needles that allow the device to adjust to differences in skin thickness. The device has minimal risk of infections due to its advanced technology that prevents it from bending, breaking or rusting that can cause infections with reuse.
Meridian Skin Care Clinic is proud to offer the following product lines, available for purchase in our office:
ALASTIN Skincare™ Technology and Benefits
ALASTIN Skincare™ products provide additional support for your skin's natural regenerating processes through patent-pending TriHex Technology™, developed by their scientists, which enhance the skin by clearing the damaged proteins. The technology in these products also support your collagen and elastin production, helping to facilitate your recovery and maintain the overall effects of our rejuvenating procedures.
---
SkinMedica®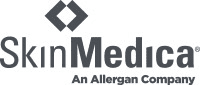 These innovative products have been rejuvenating skin for more than 10 years using scientifically and clinically proven compounds, and are found only through approved physician's offices. After a 24-week clinical study using 72 patients, 100% had smoother skin AND reductions in the appearance of fine lines and wrinkles, as well as 97% had improvements in the appearance of dark spots and sun damage.
---
Theraderm
Theraderm products focus on simplicity and effectiveness. Our policy is that every product must perform better than any other product in its class, and must have its own unique function in the skin restoration process before receiving the Therapon name. Our commitment is to provide superior skin health products in a manner that will be effective, affordable and easy to use by any person of any age, gender or ethnic group.
---
EltaMD™
Daily use of an effective broad-spectrum sunscreen is imperative. EltaMD™ sunscreens utilize microfine transparent zinc oxide. Zinc oxide is the only single ingredient that uniformly blocks both UVB rays, including the long UVA rays that have been implicated in both photoaging and photocarcinogenesis (skin cancer).