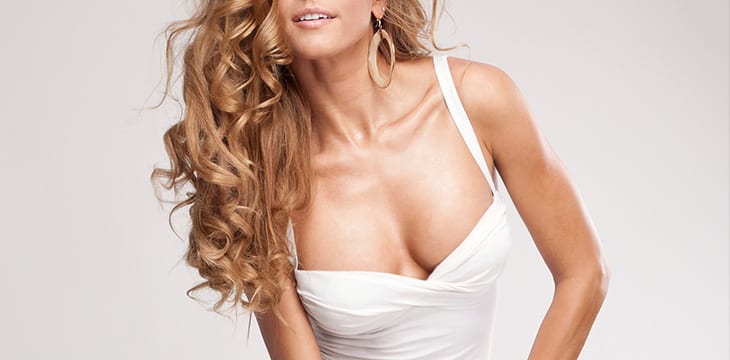 Breast augmentation enhances the body contour of a woman who is unhappy with her breast size or shape, and is one of the most common procedures performed by Dr. Tjelmeland. Breast augmentation can restore lost breast volume after pregnancy and can lift and reshape the breast. It is also commonly used to correct breast asymmetry or breast size differences.
The Procedure
Breast augmentation is performed on an outpatient basis in our surgical center located in Austin, under light general anesthesia.  A breast implant is placed under the breast tissue or under the pectoral muscle depending on the specific situation. The incision can be made in the crease under the breast, at the margin of the nipple/areola, or under the arm. Dr. Tjelmeland uses both silicone gel and saline implants. There are many different styles, types and projections of breast implants and the specific implant that will give the best result for your body and breast will be determined at your consultation with Dr. Tjelmeland. The amount of existing breast tissue, your skin condition, and the overall look you want to achieve, all play a part in determining the size and style of implant that will be used. Dr. Tjelmeland will discuss these different implant options with you and give you his recommendation to achieve the best result.
Recovery: What to Expect
Immediately after surgery, your breasts will typically feel tight and sore. Most of this discomfort usually resolves in the first 3 – 5 days and is easily controlled with pain medication. This tightness and swelling in the breast area is normal as your body adjusts to the implants.
Typically, breast augmentation patients can return to office work in 4-5 days. Moderate exercise such as walking or stationary biking is allowed after about 10 days, and vigorous exercise such as jogging or aerobics may usually be resumed at 4 weeks.
During recovery, the breasts will be somewhat swollen and the implant position may appear to be a little high due to muscle swelling. Within a few weeks your tissues will adjust to the implant and the actual shape and size will become evident as the implant settles into place.
Implant Type for Breast Augmentation
Austin women tend to spend a great deal of time agonizing over which type of implant is best for them. The reality is that once our patients actually meet with Dr. Tjelmeland in person they get a much clearer idea of which type would help them meet their goals for the procedure.
Saline Breast Implants
Most of our patients are familiar with saline breast implants since they've been around the longest. Nevertheless, saline implants have unique properties. First of all, they're less expensive than the other options. Many Austin patients, however, report that saline implants can sometimes produce a "rippling" or wrinkling on the edge of the implant that can be felt and occasionally seen.
Silicone Breast Implants
Silicone breast implants have some tremendous benefits for our patients. Many women find that silicone implants have a softer, more natural feel compared to saline. But although silicone implants are more expensive, they tend to have much less rippling on the edge in most patients.
All modern silicone implants contain a type of cohesive gel.  Different styles of implants have different levels of cohesiveness.  Patients sometimes refer to cohesive gel implants as "gummy bear" implants.  At your consultation, Dr. Tjelmeland will discuss the specific implant type and suggest the optimal implant type to achieve the best result for each patient.
Incision Type for Breast Augmentation
Austin patients can switch out their breast implant sizes, but the location of the scar cannot be undone. There are a few different options and Dr. Tjelmeland will talk in detail with each patient about which one is best for them.
The inframammary fold (near the crease under the breast) is the location where the incision is placed most commonly.  Occasionally, the periareolar incision, or incision around the areola, is used as well.  The optimal incision location for each patient will be determined at the consultation with Dr. Tjelmeland.
Am I a Candidate for Breast Augmentation?
Austin women who are interested in getting breast augmentation will first undergo an examination by Dr. Tjelmeland. During this examination, Dr. Tjelmeland will take precise measurements, discuss goals, and will be checking to make sure that the patient is an overall good candidate for breast augmentation. Every surgery carries certain risks and Dr. Tjelmeland will ensure that the patient is healthy enough to undergo the breast augmentation procedure. Here are a few of the factors that determine whether or not a patient is an optimal candidate for breast augmentation.
General Health – It is important that patients are in good general health. Dr. Tjelmeland will do a thorough medical history and will look for things such as high blood pressure, diabetes, and if the patient consumes tobacco. Both of these conditions will need to be addressed and controlled before the patient can get breast augmentation.
Complete Breast Development – Some younger patients in the Austin area may not be good candidates for breast augmentation if their breasts have not fully developed. Having mature breast tissue is a key factor for breast augmentation candidacy.
Expectations and Goals – In some cases, the patient may have unrealistic expectations about the results that they will get. Some Austin patients expect to have their ideal breasts immediately after the surgery. However, patients will need to wait until their bodies fully heal to see the actual results of their procedure. Additionally, some patients have unrealistic expectations about how their breasts will look even after they are healed. Dr. Tjelmeland spends a lot of time talking with patients about what their goals are and what they can expect their breasts to look like. Whether the goal is to correct asymmetry, restore lost volume or just to increase the size, it is important that patients have a full understanding of what the procedure can accomplish and also what it cannot accomplish.
Family Planning – One other subject that Dr. Tjelmeland talks about with patients is whether or not they plan to have any more children in the near future. Pregnancy and breastfeeding can cause changes in the breast tissue and implant placement. Becoming pregnant after breast augmentation should not cause any medical issues or concerns but patients should understand they may see changes after pregnancy that may warrant a revision surgery.
If you're unsure whether or not you're a good candidate for breast augmentation the best thing you can do is contact us. We are more than happy to talk with you, answer your questions, and discuss your concerns.
Caring for Scars After Breast Augmentation
Austin women have many different concerns that they have to address before their procedure. One of these concerns is the scarring that results from the procedure. Unfortunately, whenever the skin is cut a scar will form as the skin heals. With breast augmentation, Dr. Tjelmeland will inform his patients where the optimal placement of the incision will be to produce minimal and less noticeable scarring.
After the procedure many Austin patients want to know what they can do to help the scar heal quickly and be as unnoticeable as possible. Dr. Tjelmeland will give all of our breast augmentation patients a full breakdown of postsurgical instructions that includes scar care. But these are a few of the methods that patients can use to help care for their scars.
Follow instructions – All of our Austin patients will not only have the chance to talk with Dr. Tjelmeland about their recovery period, but he will also give you lots of information to take home so you know exactly how to care for your breast implants and get the best possible results. Part of those instructions will include scar care. Make sure that you follow Dr. Tjelmeland's instructions to help your scars heal correctly and be as undetectable as possible.
Stop smoking – In addition to increasing the risk of cancer, smoking tobacco also greatly inhibits your body's ability to heal. Specifically, tobacco makes it harder for your body to deliver nutrients and oxygen to the tissues that are healing. Patients should quit smoking at least 2 weeks before the procedure to make sure that their body is healthy.
Silicone sheeting – One of the most popular methods for scar care is called silicone sheeting. These sheets are placed directly on the incision sites. Dr. Tjelmeland will follow his patients closely during the recovery process and will let them know if they can benefit from these.
Creams and lotions – Many patients discover that there are lots of different topical creams and lotions that they can apply to their scars as well. However, before applying any kind of ointment or lotion to your scars make sure that you discuss it with Dr. Tjelmeland ahead of time.
Massage – After the implants have started to heal, patients can discuss the option of self-massage to help their scars heal better. Self-massage involves the patients massaging the incisions to help promote blood flow to the areas. Of course, the incisions must be healed to a certain extent before this is possible. Again, Dr. Tjelmeland follows his post-operative patients closely and will let them know whether or not they need to start massaging their scars.
Factors That Influence Your Scars
Unfortunately, there are some factors outside of our control that will determine how well your body scars.
Age – Younger skin typically is able to heal faster and with less visible scarring. Skin that is more mature tends to be thinner and have less elastic properties than younger, firmer skin.
Genes – Another component is your genetics. Some people have skin that forms thick, raised scars called keloids instead of flat, thin scars.
Skin color – For patients with darker skin, the risk of developing keloids is much greater than patients with lighter skin.
The Cost of Breast Augmentation
Austin women who are considering breast augmentation almost always do their own research before coming to their preliminary consultation. We always encourage our Austin patients to do this. While there is a wealth of information on the Internet, some of it can be confusing–especially when it comes to the issue of breast augmentation cost.
There are a variety of factors that go into the final cost of the procedure, which is why there can sometimes be such a wide range of prices. These are a few of the factors that will influence the final cost of a breast augmentation procedure here in Austin.
Surgeon's fees – Naturally, the surgeon will charge a fee for their time and experience in performing the procedure.
Facility – Whether your procedure is performed at a hospital or an outpatient surgical center, these facilities charge a fee for the usage of their space, equipment, and staff.
Anesthesia – Obviously, breast augmentation is performed under general anesthesia, which must be administered by an anesthesiologist. Typically, anesthesia is billed by the hour so patients that get multiple procedures, like for a Mommy Makeover, may have a larger cost because of the anesthesia.
Prescription medications – After the procedure, patients will often need an antibiotic and pain medication for the first few days.
Why Work with Dr. Tjelmeland
Board-certified by the American Board of Plastic Surgery, Dr. Tjelmeland has undergone some of the most rigorous testing to attain this certification. He received both his medical degree and subsequent General Surgery and Plastic Surgery training at Baylor College of Medicine at the Texas Medical Center in Houston. Dr. Tjelmeland is also a member of several prestigious surgical societies and associations. He is a Fellow of the American College of Surgeons and a member of the American Society of Plastic Surgeons, Texas Society of Plastic Surgeons, American Medical Association, Texas Medical Association, Travis County Medical Society and The Texas Medical Foundation.
On top of his impressive education and experience, our Austin patients absolutely love the incredible results that they get with Dr. Tjelmeland. Just take a look at our Before-and-After pictures to see the kind of amazing results that our patients get. You can also browse through our Online Reviews to see what our patients have to say about working with him.
Give us a call today at (512) 617-7500 to learn more and get started.