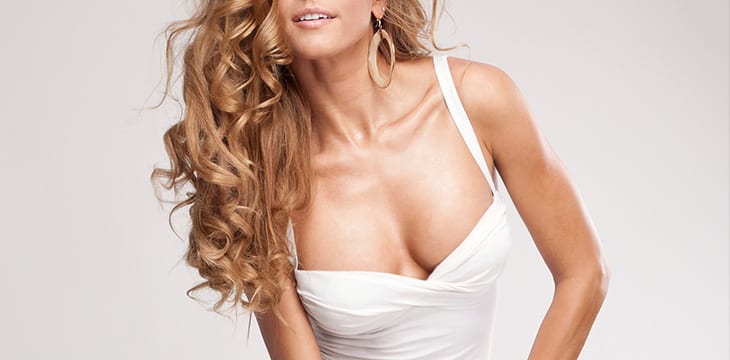 Breast augmentation enhances the body contour of a woman who is unhappy with her breast size or shape, and is one of the most common procedures performed by Dr. Tjelmeland. Breast augmentation can restore lost breast volume after pregnancy and can lift and reshape the breast. It is also commonly used to correct breast asymmetry or breast size differences.
The Procedure
Breast augmentation is performed on an outpatient basis in our surgical center located in Austin, under either sedation ("twilight anesthesia") or light general anesthesia.  A breast implant is placed under the breast tissue or under the pectoral muscle depending on the specific situation. The incision can be made in the crease under the breast, at the margin of the nipple/areola, or under the arm. Dr. Tjelmeland uses both silicone gel and saline implants. There are many different styles, types and projections of breast implants and the specific implant that will give the best result for your body and breast will be determined at your consultation with Dr. Tjelmeland. The amount of existing breast tissue, your skin condition, and the overall look you want to achieve, all play a part in determining the size and style of implant that will be used. Dr. Tjelmeland will discuss these different implant options with you and give you his recommendation to achieve the best result.
Recovery: What to Expect
Immediately after surgery, your breasts will typically feel tight and sore. Most of this discomfort usually resolves in the first 3 – 5 days and is easily controlled with pain medication. This tightness and swelling in the breast area is normal as your body adjusts to the implants.
Typically, breast augmentation patients can return to office work in 4-5 days. Moderate exercise such as walking or stationary biking is allowed after about 10 days, and vigorous exercise such as jogging or aerobics may usually be resumed at 4 weeks.
During recovery, the breasts will be somewhat swollen and the implant position may appear to be a little high due to muscle swelling. Within a few weeks your tissues will adjust to the implant and the actual shape and size will become evident as the implant settles into place.
Implant Type for Breast Augmentation
Austin women tend to spend a great deal of time agonizing over which type of implant is best for them. The reality is that once our patients actually meet with Dr. Tjelmeland in person they get a much clearer idea of which type would help them meet their goals for the procedure.
Saline Breast Implants
Most of our patients are familiar with saline breast implants since they've been around the longest. Nevertheless, saline implants have unique properties. First of all, they're less expensive than the other options. Many Austin patients, however, report that saline implants can sometimes produce a "rippling" or wrinkling on the edge of the implant that can be felt and occasionally seen.
Silicone Breast Implants
Silicone breast implants have some tremendous benefits for our patients. Many women find that silicone implants have a softer, more natural feel compared to saline. But although silicone implants are more expensive, they tend to have much less rippling on the edge in most patients.
All modern silicone implants contain a type of cohesive gel.  Different styles of implants have different levels of cohesiveness.  Patients sometimes refer to cohesive gel implants as "gummy bear" implants.  At your consultation, Dr. Tjelmeland will discuss the specific implant type and suggest the optimal implant type to achieve the best result for each patient.
Incision Type for Breast Augmentation
Austin patients can switch out their breast implant sizes, but the location of the scar cannot be undone. There are a few different options and Dr. Tjelmeland will talk in detail with each patient about which one is best for them.
The inframammary fold (near the crease under the breast) is the location where the incision is placed most commonly.  Occasionally, the periareolar incision, or incision around the areola, is used as well.  The optimal incision location for each patient will be determined at the consultation with Dr. Tjelmeland.
Additional Procedures
Along with breast implants surgery in Austin, Dr. Tjelmeland performs breast lift surgery, breast reduction, and Mommy Makeover surgery. The combination of tummy tuck surgery and liposuction help women regain their pre-pregnancy body.
To learn more, meet with our Austin breast enlargement surgeon for an initial consultation by calling (512) 617-7500 or sending us an e-mail.