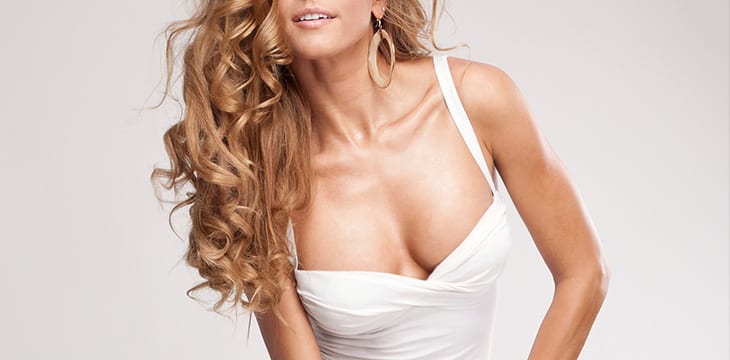 No woman wants to have sagging breasts. But pregnancy, nursing, and loss of skin elasticity due to aging can cause the breasts to lose their shape and firmness. A breast lift, or mastopexy, will lift and reshape the breast, restoring a more youthful appearance to a woman's breasts. Often, breast implants are also used along with the breast lift to help shape, increase fullness, and to add volume, and size. Breast lifts can be performed in combination with other body procedures and are sometimes included as part of a mommy makeover which is a special combination of plastic surgery procedures designed to restore and rejuvenate a mother's body to its former self after she is done having children.
There are several types of breast lift procedures ranging from simple lifts with minimal scarring to extensive lifts (standard, or full lifts). The type of lift is individualized for each Austin patient depending on the severity of sagging and the desired patient goals.
THE CONSULTATION
If you're considering getting a breast lift – either with or without breast implants, your first step is to schedule a consultation appointment with Dr. Tjelmeland at Austin's Meridian Plastic Surgery Center. It is during this initial appointment that you will be able to communicate to Dr. Tjelmeland your pain points and discuss how you would ultimately like your breasts to appear.
For this first visit, Dr. Tjelmeland typically asks his potential Austin patients to bring in photographs or magazine clippings of what they would like their breasts and overall silhouette to look like. Using general terms like "perkier" or even suggesting a cup size if you are considering a breast augmentation along with your breast lift are not enough, as words can be general and cup sizes vary between bra manufacturers. You may choose to rely on Dr. Tjelmeland's breast augmentation before and after gallery to determine how you would ultimately like your breasts to appear.
THE PROCEDURE
Breast lift surgery is usually performed on an outpatient basis under either sedation ("twilight anesthesia") or light general anesthesia, depending on the complexity of your individual case and your comfort level with surgery. Some Austin women, especially those who have never undergone a surgical procedure before, tell Meridian Plastic Surgery Center's Dr. Tjelmeland, they want to be as "out of it" as possible for their breast lift procedure.
While you'll arrive at our certified surgical center several hours before your procedure, having fasted for at least 12 hours, the actual surgery may take between 1.5 to 3.5 hours depending on the type of lift and the condition of your breasts. Circumareolar lifts can be accomplished with an incision just around the areola and are typically performed in combination with breast augmentation surgery. A standard lift or full mastopexy involves more incisions to allow for more aggressive lifting and reshaping of the breast for situations involving severe sagging of the breast. If necessary, breast implants can also be used with a standard or full mastopexy to help shape the breast and if needed increase the size of the breast.
RECOVERY: WHAT TO EXPECT
Most women will return home the same day of their breast lift surgery, though some may require additional monitoring by Dr. Tjelmeland to ensure safety and comfort. Either way, you will not be able to drive yourself home after your surgery due to the powerful sedatives you'll be receiving.
After surgery, your incision sites will be covered with gauze, and an elastic bandage or a surgical bra will hold the breasts in place. Your breasts will be swollen, and you may experience some mild discomfort that is easily managed with pain medication. A soft support bra replaces the bandages or surgical bra after a few days.
Usually, Austin patients return to work between 5 – 7 days depending on the type of procedure and the type of work.  You will need to avoid any heavy lifting or vigorous activity for 3 to 4 weeks depending on your situation. This includes lifting small children. If you are a mother with little ones at home, you'll need to arrange for additional help with childcare while you recover, as you will be unable to pick your children up during your recovery from breast lift surgery.
AM I A GOOD CANDIDATE FOR A BREAST LIFT?
Many Austin women want a breast lift for perkier, more youthful looking breasts, but just wanting a breast lift doesn't qualify you for surgery. Dr. Tjelmeland always puts your safety first, which is why he has strict criteria for accepting breast lift patients. These include:
Passing a pre-operative appointment from your general practitioner, who clears you for your breast lift surgery.
Being in good general overall health.
Listening to Dr. Tjelmeland explain the breast lift surgery to you in detail, and communicating with him that you have realistic expectations for your procedure.
Being a non-smoker, as smoking can complicate both the breast lift surgery and your recovery time.
Being in good psychological health.
Don't live with sagging breasts that make you feel older or self-conscious about your appearance. If you want more information about getting a breast lift in Austin, you can schedule a consultation with Dr. Tjelmeland at Meridian Plastic Surgery Center by calling (512) 617-7500, or by sending us an e-mail.