April 17, 2017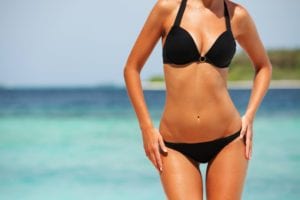 You eat healthily. You exercise regularly. You've lost some weight and are starting to get the body you've always wanted. But you still have some stubborn areas of fat around your waist, thighs, buttocks, and arms. No matter how strenuously you work out or how healthy you eat, you just can't seem to get rid of (or stop staring at) these hard-to-lose areas of fat. So what do you do?
Liposuction is one of the top two most popular cosmetic procedures in the world. But since its 2010 FDA approval, one of the fastest-growing procedures around is CoolSculpting. Austin patients are often confused about which one is better. But the more important question is which one is right for you? Well, in this blog post we'll discuss the advantages, disadvantages, and differences between these two common procedures. Which one is best for you is really up to you and Dr. Tjelmeland which is why you should give us a call today at (512) 617-7500.
The first step after you call is to schedule a good time for you to come into our modern and cozy offices to meet with Dr. Tjelmeland in person. During this preliminary consultation, you'll get to talk with Dr. Tjelmeland about which type of procedure is right for you and what your goals are for the procedure. Dr. Tjelmeland will also perform an examination and start to develop a treatment plan specifically tailored to you. From there, you'll discuss with Dr. Tjelmeland which procedure will help you get the results you want.
What's the Difference Between Liposuction and CoolSculpting?
Austin patients often come into our offices assuming that they need liposuction to help them get the body shape they want. However, there are some cases where CoolSculpting is a better alternative. Here's a quick breakdown of how they're different.
How it Works: Liposuction
The liposuction procedure is not a weight loss tool, but a fat removal and reshaping tool. In fact, the amount of fat removed during liposuction will not significantly impact weight at all. With this procedure, Dr. Tjelmeland makes small incisions in the targeted areas. He then inserts a tool called a cannula to vacuum out fat cells and shape the targeted areas to the patient's desires.
How it Works: CoolSculpting
Austin men and women often prefer CoolSculpting because it is non-invasive (meaning there are no incisions) and there is no down-time associated with the procedure. Instead, Dr. Tjelmeland uses CoolSculpting technology to freeze fat cells without damaging or harming skin, muscle, or nerve tissues. Once the fat cells are dead, the body naturally removes them leaving behind a trimmer appearance. In fact, the procedure is virtually painless, and many of our patients read, watch movies, or sleep during the procedure.
Which procedure is right for you will depend entirely on your unique situation and your consultation with Dr. Tjelmeland. For patients who have excess skin, liposuction and a tummy tuck may be a better option than CoolSculpting. Austin patients who have fewer problem areas and fewer fat cells to remove may be better served by CoolSculpting.
The beauty of plastic surgery is that when you work with Dr. Tjelmeland, you'll get a solution that is tailored just for you based on his recommendation.
Call our Austin office at (512) 617-7500 to learn more and get started.