Gallery
About the Procedure
After pregnancy, you may notice significant changes to your body, and despite exercise and dieting, you may find it difficult to return to your pre-pregnancy shape.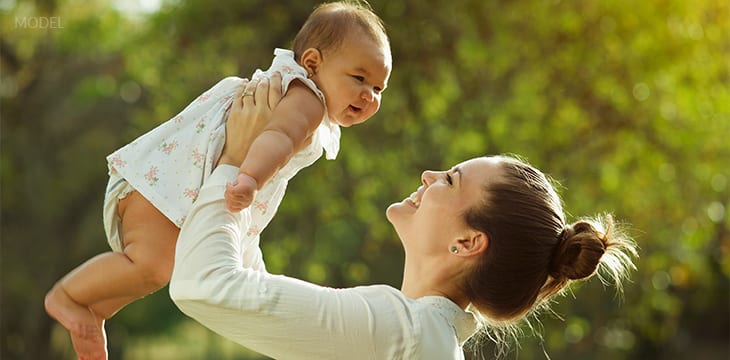 Rejuvenate your body with a mommy makeover from Meridian Plastic Surgery in Austin. We combine several different procedures to address your unique needs. Among other improvements, Dr. Tjelmeland can help Austin mommy makeover patients:
Sculpt their midsection with a more attractive contour.
Eliminate stubborn areas of fat.
Restore lift and volume to their breasts.
Explore the process and see how our practice can help you achieve your personal beauty goals.
How Our Mommy Makeover Works
In your initial consultation with Dr. Tjelmeland, you will discuss the areas of your body you want to change and what you want to accomplish. Dr. Tjelmeland will answer your questions about mommy makeover surgery, conduct an examination, and recommend specific procedures for your needs.
Typically, mommy makeovers include:
Breast augmentation and/or breast lift surgery: After pregnancy, the breasts can begin to sag, reduce in volume, and lose elasticity. Our procedures counteract these effects.
Tummy tuck surgery: It's common for pregnancy to stretch out the abdominal muscles and skin. A tummy tuck tightens our abdomen, eliminates loose skin from your midsection, and provides you with a flatter, slimmer appearance. Dr. Tjelmeland can also improve your C-section scar as part of the surgery.
Liposuction: Surgery can remove fat from the abdomen, hips, and thighs, among other areas.
Your experience will depend on the surgeries that you choose with Dr. Tjelmeland's guidance. Procedures take place on an outpatient basis in our accredited and licensed Austin surgical center, so you can recover at home when you're out of surgery.
---
Difference Between a Breast Lift and Breast Augmentation
When we get new mommy makeover patients, they often tell us that they want to get a breast augmentation. However, this is not always the best choice for our patients. In some cases, the patient may be a better candidate for a breast lift or a breast lift with an augmentation.
What is a Breast Lift?
After pregnancy, many moms find that their breasts hang much lower and that the nipple may even be pointing downwards. In these cases, simply putting in an implant alone will not lift and shape the breast as much as it needs to be. That's why Dr. Tjelmeland will often recommend a breast lift.
During the breast lift, Dr. Tjelmeland will remove excess skin, adjust the position of the nipple, and shape the breast into a more youthful and attractive position. With a mommy makeover, Austin patients will often elect to get both the breast lift and a breast augmentation to add volume and further shape the breast.
What is Breast Augmentation?
While the goal of a breast lift is to reposition the breast, the goal of breast augmentation is to lift, shape, and add volume to the breast. In this procedure, Dr. Tjelmeland inserts a breast implant usually behind the chest muscle. Dr. Tjelmeland will then position the implant so that it boosts the fullness and size of the breasts to the patient's desires.
Mommy Makeover
---
Do you often wish you could return your body to its pre-pregnancy shape? A mommy makeover can sculpt and restore your breasts, abdomen, thighs, and more while eliminating stubborn fat pockets. With this all-in-one surgery, Dr. Tjelmeland can help you achieve the body of your dreams.
The Tummy Tuck and a Mommy Makeover
Austin moms are the only ones who will truly know how much stress pregnancy puts on the body. After any pregnancy, a mom will often have excess skin and separated abdominal muscles, or diastasis recti. While moms often work hard to get their pre-pregnancy bodies "back", no amount of exercise or dieting will be able to remove the excess skin or repair these separated abdominal muscles. With a tummy tuck, Dr. Tjelmeland is able to give moms a trimmer and sleeker body by removing the excess skin, suturing together the abdominal muscles, and contouring the abdomen.
During the tummy tuck procedure, Dr. Tjelmeland will make an incision just above the pubic area. In some patients, this incision can extend from hipbone to hipbone. But for patients who are candidates for a "mini" tummy tuck, it can be smaller. Often times Dr. Tjelmeland performs liposuction to the hip and/or flanks area along with the tummy tuck. This helps contour and tapers in the waste area and enhances the results of the tummy tuck.
Recovery From a Mommy Makeover
As a mother, you likely want to reduce your downtime after mommy makeover surgery as much as possible. The Meridian Plastic Surgery team can talk with you about what to expect in your recovery depending on the procedures you select.
In most cases, we recommend that Austin patients plan ahead so that you have effective coverage after surgery. Whether this means getting time away from work or extra help at home with young children, having support will help you recover more quickly and effectively.
To aid in your recuperation, Dr. Tjelmeland uses advanced techniques and tools, including the Harmonic® scalpel. This reduces pain, swelling, and inflammation during recovery. He and our staff are also available before, during, and after your procedure to answer your questions and help you enjoy the benefits of your surgery as soon as possible: a slimmer, sleeker body and restored appearance.
Who is a Good Candidate for a Mommy Makeover?
Austin moms all deserve to look and feel their best–especially after the incredible changes that their bodies often go through during pregnancy. Sagging breasts, excess skin on the tummy, and stubborn fat are just a few of the issues that can result from pregnancy.
With a mommy makeover, women can achieve a trimmer figure and perkier breasts, helping to regain their confidence. But not all moms are good candidates for the procedure. A big part of the initial consultation is both Dr. Tjelmeland and the patient talking together and determining whether or not she is both a good candidate and is also ready for the procedure. Here are a few of the things that will be discussed during your first meeting with Dr. Tjelmeland:
Overall Health – Austin patients first need to be in good overall health. Any illnesses such as diabetes, high blood pressure, high cholesterol, or autoimmune diseases should be controlled and discussed prior to surgery. To be considered a good candidate for a mommy
Obesity – Another issue that can prevent women from getting a mommy makeover is obesity. A mommy makeover isn't a weight loss solution. While liposuction is a common procedure performed during a mommy makeover, the amount of fat removed is mostly for shaping. Women interested in a mommy makeover should first achieve their desired weight before moving forward.
Non-smokers – Smoking tobacco products not only significantly increase your risk of cancer, tobacco actually makes it harder for your body to deliver nutrients and oxygen to the surgical sites. This can slow down the healing process and also increase the risk of infection. Austin patients should quit smoking at least 2 weeks before the procedure to ensure that their bodies are healthy.
Family Planning -The biggest advantage of a mommy makeover is to allow our patients to improve the appearance of their figure in one surgery. If the patient is considering having more children in the future. This will most definitely affect the results from their mommy makeover. Austin patients should first finish having children and breastfeeding before undergoing a mommy makeover.
Scar Care After a Mommy Makeover
One of the most common questions Dr. Tjelmeland gets from our mommy makeover patients in Austin is how to help their scars appear as unnoticeable as possible.
Many times, Dr. Tjelmeland's patients do not need any intervention at all when it comes to caring for their scars. However, any time the skin is cut a scar will form as the body heals. But there are some strategies and therapies that can be implemented to help insure the scar heals properly and with a less noticeable final result.
Cost of a Mommy Makeover
Another very common question from moms is what exactly is the cost of a mommy makeover. Austin patients often start exploring the idea of a mommy makeover online. While there is often a great deal of good, accurate information out there, when it comes to the price of a mommy makeover, patients often find that there is a wide range of numbers.
One of the reasons for this is because patients often choose a variety of different procedures for their mommy makeover, which can change the price dramatically. Since Dr. Tjelmeland customizes each mommy makeover surgery for each patient's unique body characteristics, it is difficult to price without having a consultation and examination beforehand. On top of that, there are a lot of different factors that go into the final cost. Here are a few of those factors.
Why Work with Dr. Tjelmeland
As a board-certified plastic surgeon, our patients can trust that they are in good hands. Dr. Tjelmeland  got both his medical degree and General Surgery and Plastic Surgery training at Baylor College of Medicine at the Texas Medical Center in Houston. He also is a member of the American Society of Plastic Surgeons, Texas Society of Plastic Surgeons, American Medical Association, Texas Medical Association, Travis County Medical Society and The Texas Medical Foundation.
Even more importantly, our patients love the results that they get. Just take a look at our Before-and-After pictures to see his work for yourself. You can also read through some of the heartfelt reviews our patients have left on our Reviews page.
On top of that, Austin patients also appreciate how kind, caring, and compassionate Dr. Tjelmeland is. Throughout the consultations, procedure, and postoperative care, Dr. Tjelmeland will always be honest and transparent. You'll know exactly what's going on and all the risks and rewards of any procedure. This sort of open dialogue is at the heart of building a healthy and lasting relationship and it's something that Dr. Tjelmeland values very deeply. We can't wait to hear from you and help you get started on this incredible journey.
How to Get Started with Dr. Tjelmeland
If you're ready to finally get youthful, perky breasts again or get a flat, shapely tummy, contact us today! When you call, you'll always be greeted by one of our friendly and highly-trained staff. Getting calls from our new potential patients is something we look forward to every day. We're more than happy to answer your questions, talk with you about your concerns, and help you take the next step: scheduling your preliminary consultation.
Before your consultation, we encourage new patients to do some research online and come prepared with questions, pictures of how they want their breasts or body to look, and any concerns that they have. Dr. Tjelmeland will talk through all of those with you as he starts to get an idea of what your goals are and what you want your results to look like.
For patients that are getting breast augmentation and/or breast lift, Dr. Tjelmeland will spend time talking about the type of implant, he recommends, the size you desire, and also the overall look that you would like.
During this consultation, Dr. Tjelmeland may also perform physical examination to make sure that the patient is a good candidate for surgery.
Contact Meridian Plastic Surgery for an initial consultation about your mommy makeover. Call our Austin offices at (512) 617-7500 or use our online form.